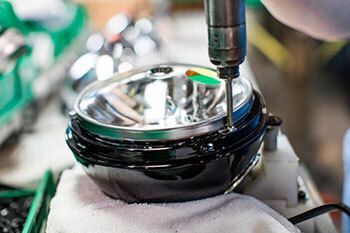 We create value for our customers
Being a one stop shop for our customers means providing services that shorten the supply chain, increase efficiencies and result in higher quality parts and products. In order to do this, we offer a variety of value added services in the areas of supply chain management, design and engineering, assembly, packaging and logistics to our strategic customers. 
These include the following:
Design and Engineering: Our specialized engineers work with our customers from idea conception to ensure products are designed for quality finishing, improved performance and style. Our innovation group is made up of engineers dedicated to developing new technologies for customers to solve challenging problems in heat management, protection and cosmetics. 
Supply Chain Management: A key component of our business is managing large domestic and global supply chains for our customers. Our supply chain experts know how to consolidate and manage strategic supply chains that result in higher quality and more cost effective finished parts with shortened lead times, maximizing flexibility for our customers.
Assembly: An onsite assembly area is dedicated to assembling key products for our customers. Our assembly area has an extensive array of capabilities and can handle projects ranging from simple benchtop assemblies to more complex assemblies involving large numbers of SKUs, highly cosmetic components and the need for post assembly testing. Our focus is to design a process that will ensure we meet our customer's needs. 
Packaging: Our packaging area, located next to assembly, allows us to offer various packaging options, including end-consumer packaging, for our customers. Whether you need a component specially packaged for further processing at your facility, or if you are looking for a retail ready kit including all hardware and instructions that can be shipped directly from our warehouse, our packaging specialists are ready to meet your needs.