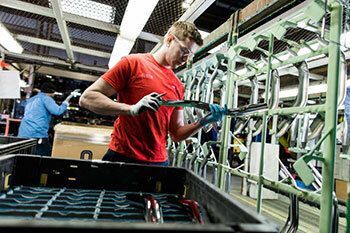 Quality in everything we do.
Quality objectives are established as part of our business system and are monitored and driven by continual improvement.Quality is the responsibility of every person at Lincoln Industries. We will provide products and services that meet or exceed our customers' requirements (Quality Policy).
We believe that quality, in every aspect of our business, drives our success. Our ability to meet and exceed the high quality expectations of our customers is one of our company's drivers.  This driver forms the core of our strategic partnership with each company we serve.  We align our quality expectations with our customers on a daily basis.  We reflect this internally with our proactive approach, which is demonstrated by our world-class testing lab, process control initiatives, and our commitment to continuous improvement. Our team of quality and process control engineers understand each of our customer's expectations and are dedicated to meeting and exceeding these standards each day.
In order to meet the quality expectations of our customers, we offer APQP, PPAP, GD&T along with many other quality processes.
We also offer onsite formal Quality, Lean Six Sigma Green Belt, and Lean Six Sigma Black Belt training to all of our people.  Our commitment to training ensures that our people are equipped with the knowledge and skills they need to produce the highest quality parts for our customers.
Lincoln Industries is IATF 16949 (Main Plant,  Airpark), and ISO 9001 (Main Plant,  Airpark,  SourceOne,  Wisconsin) certified. 
| Adhesion testing: | Corrosion testing: |
| --- | --- |
| ASTM B456 | ASTM B117 |
| ASTM B487 | ASTM B368 |
| ASTM B490 | ASTM B537 |
| ASTM B504 | ASTM G85 |
| ASTM B571 | ISO 9227 |
| ASTM B659 | |
| ASTM B764 | |
| ISO 1456 | |
Some of our testing processes include: 
Acid Drip
Atomic absorption spectroscopy
CASS
Chemical Testing - Centrifuge
Chemical Testing - HPLC
Chemical Testing - Titration
Coulometric de-plating (STEP)
Ductility
Hull Cell
Microscope
Microscope (Inverted)
Neutral Salt Spray
New Chemical development and approval
Particle Count testing (Millipore)
Surface Tension
X-ray thickness