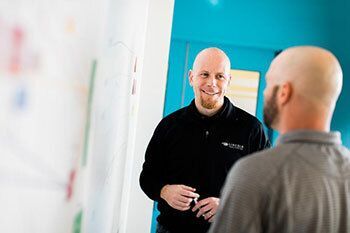 Innovation Creates Continuous Improvement
Continuous improvement is one of Lincoln Industries key beliefs. We believe that by engaging our people, developing standards and consistently assessing our work, we are able to improve quality and efficiency in order to better serve our customers. That's why we build our continuous improvement efforts on establishing standard metrics for each area and measuring our performance every day. The innovative spirit that has long been a part of this company helps feed the strong passion and participation around continuous improvement initiatives. 
Our continuous improvement program maintains a strong focus on servant leadership, which means developing our people to become better versions of themselves. We have programs in place that equip our people with the skills, knowledge and confidence to be successful both at work and at home. This results in a happier, more proficient workforce that comes to work each day empowered to exceed customer expectations. 
Below are some of our programs that facilitate continuous improvement throughout the company:
MDI: Managing for Daily Improvement processes that drive alignment between each department and overall operational metrics to encourage daily improvements and a servant-focus from support departments.
Ignite: Floor-level engagement program to encourage line improvements, team-based problem solving and provide company-wide recognition for our people.
Belt Training: Internal development training and certifications in White Belt, Green Belt and Black Belt that provide our people with problem solving, project management, team facilitation and data analysis skills.
Continuous Improvement Events: Compressed improvement efforts that are achieved in real-time by key influencers in the process. 
Continuous Improvement Projects: Complex projects that focus on highly important issues affecting the business at large.