We are the experts at standout style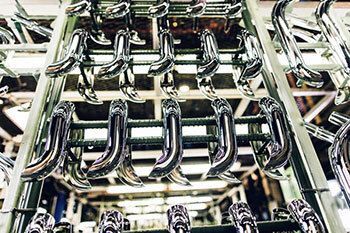 For over 60 years, cosmetic finishing has been at the core of our business. Our expertise in plating and finishing allows us to offer design and engineering support to ensure that parts are designed for optimized plating quality and appearance. We've been plating and finishing highly cosmetic parts for the leader of domestic motorcycles for over 25 years and have received many awards for our work. 
We've developed trend-setting cosmetic finishes for OEMs that provide competitive advantages. These finishes also offer many performance benefits such as thermal stability, corrosion resistance, UV stability, durability and more.
We recently built the largest nickel chrome plating line in North America. Increasing our capacity to plate large cosmetic parts like stacks, bumpers, grill guards and elbows for all major class 8 truck OEMs in the country.
With over 30 finishes under one roof we are equipped to provide OEMs the high quality platings and finishes they demand.
Our long history, prestigious customers and unmatched resources make us the leader in cosmetic finishing.
---
Contact Us
Lincoln Industries
Business Development Team
sales@lincolnindustries.com
402-475-3671
---
StyleLinc®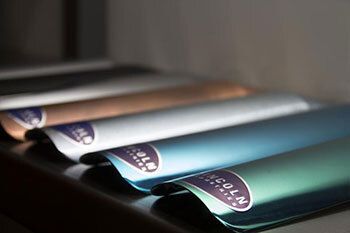 StyleLinc® technologies provide cosmetic solutions to improve product style and provide OEMs a competitive advantage. Each proprietary StyleLinc® technology is distinct in appearance and many provide additional performance benefits such as thermal and UV stability, wear resistance and durability. Lincoln Industries growth is a result of combining our high quality cosmetic finishes and supply chain management expertise to be a single source provider for our customers. Today, our expertise is proven by our continued partnership with customers like Harley-Davidson, Polaris, Rinehart, PACCAR and more.   
Lincoln Industries offers extensive lab testing per ASTM standards and OEM specifications. Specialized engineers can provide customizable offerings for any cosmetic needs. 
| | |
| --- | --- |
| StyleLinc® Technologies | |
| StyleLinc® Icon | Highly cosmetic duplex nickel chrome. |
| StyleLinc® Frost | Satin chrome finish. |
| StyleLinc® Eclipse | High temperature proprietary black chrome finish. |
| StyleLinc® Smoke | Satin black chrome finish. |
| StyleLinc® Edge | Physical vapor deposition finish with superior wear. |
| StyleLinc® Midnight | Black, high temperature cosmetic silicone coatings. |
| StyleLinc® Dusk | Black, high temperature cosmetic powder coatings. |
| StyleLinc® Apex | Black, high temperature cosmetic ceramic coatings. |
| StyleLinc® Spectrum | Anodized aluminum with UV stability and a variety of color options. |