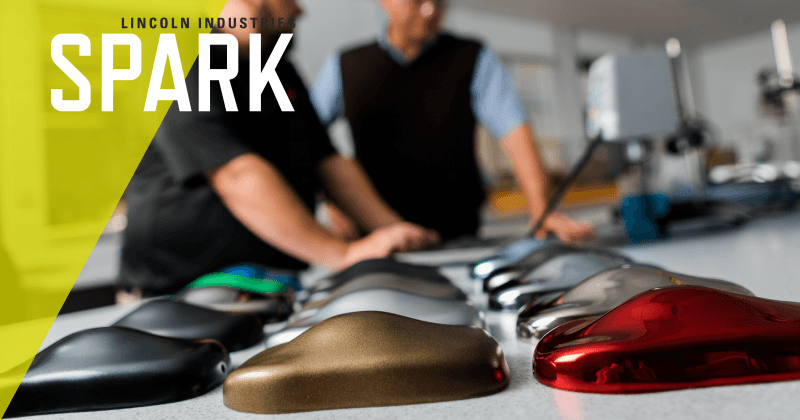 Lincoln Industries finishes and coatings provide cosmetic, heat management, protection, and functional solutions. Lincoln Industries partners with their customers on challenging finishes to enhance their products' life, quality, and performance from concept to production. Among Lincoln Industries offering is type II anodizing and type III anodizing.
What is Anodizing?
Anodizing is an electrochemical process that converts the metal surface into a decorative, durable, corrosion-resistant, anodic oxide finish. Aluminum is the most common metal for anodizing.
Anodizing occurs by immersing the aluminum into an acid electrolyte bath and then passing an electric current through the electrolyte. The aluminum acts as an anode, so oxygen ions are released from the electrolyte to combine the aluminum to form an aluminum oxide at the part's surface.
There are three types of anodizing, Type I-Chromic Acid Anodize, Type II-Sulfuric Acid Anodize, and Type III-Hard Anodize or Hardcoat. Lincoln Industries offers Type II and III.
What is Type II Sulfuric Acid Anodize, and how does it differ from other types of anodizing?
Type II anodizing is well suited for applications that require corrosion protection on aluminum. In addition, sulfuric acid is porous and allows it to absorb dyes for decorative purposes. Some colors offered by Lincoln Industries include black, red, blue, green, and gold. Lincoln Industries is willing to work with customers' unique color needs and requirements.
What are the benefits of Type II Anodizing?
Several alloys can be finished.
Offers excellent corrosion protection
It can be dyed in a wide variety of colors.
Anodized aluminum prevents further corrosion of aluminum
Harder than the aluminum substrate
Less expensive because of the chemicals used, power, and length of time
Easily cleanable
Anodizing is a safe process and isn't harmful to human health.
The coating is not conductive-so it serves well for electronic insulation.
What are some examples of Type II Anodizing parts?
Electronic enclosures
Military weapons
Hardware & hinges
Aluminum rims
What is Type III Hard Anodizing?
Type III anodizing is a process that forms extremely hard, abrasion-resistant, porous oxide on aluminum. A thick, dense aluminum oxide coating is formed in sulfuric acid at a low temperature in this process. Type III Hard anodize is specified for aluminum components that will be exposed to extreme wear. It can be crucial for electrical insulation, too. Type III anodizing is thicker and denser than Type II, so it isn't usually dyed. Where Type III anodize is utilized most is for wear-resistance purposes.
What are the characteristics of Type III Anodizing?
Non-conductive-Dielectric properties
Improved wear resistance
Abrasion-resistant
Offers corrosion protection
Improves "wearability"
What are possible applications for Tyle III Anodizing?
Valves
Hinges
Gears
Pistons
Electronics
Ceiling plates
At Lincoln Industries, customization for the customer's needs is what we do. We offer Type II and III anodizing and aim to meet the customer's needs for specification. If you're looking for peace of mind, you can have confidence in choosing Lincoln Industritsnd their 65+ years of business. Contact us today to learn more about the benefits of anodizing and our other services to fit your needs.
Founded in 1952, Lincoln Industries has grown into the nation's largest and most diverse privately-held metal finishing company. We provide solutions to premium OEMs in heat management, corrosion, wear, performance and cosmetics. Our expertise includes metal finishing, coatings, tube fabrication, supply chain management, machine build, and design and engineering. Over 69 years, we've developed strong relationships with companies like Harley-Davidson, PACCAR, Volvo, Navistar, Graco, and Cummins. Known for our unique company culture, Lincoln Industries has been named one of the 25 Best Medium-Sized Companies to Work for in America seven times.
Call today at 402-475-3671 to learn more about how Lincoln Industries might be able to help your company.
Read more here.