We know heat management
We understand that large OEMs have many challenges in the area of heat management. That's why we've spent years developing technologies in both diesel and gas that address these needs. We currently work with customers in heavy duty truck, motorsports, UTV/ATV and engine markets to solve the thermal problems they face and address heat issues at the design phase. 
Our innovation team is dedicated to developing new technologies and solving challenges in heat management. With an onsite testing lab, our specialized engineers are able to validate these solutions through extensive testing that meet OEM standards.
We address thermal challenges by using insulation, thermal barriers, radiant barriers and emissivity coatings.  Combining these into solutions, we are equipped to tackle the following challenges:
Keep heat off nearby exhaust components
Maintaining heat within an exhaust system
Fire mitigation
Rider comfort
---
Contact Us
Lincoln Industries
Business Development Team
sales@lincolnindustries.com
402-475-3671
---
ThermoLinc®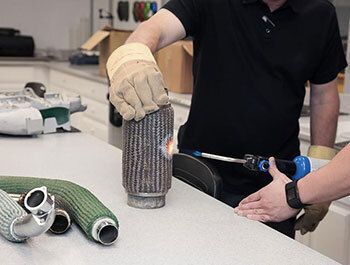 ThermoLinc® technologies solve many thermodynamic challenges. Each proprietary technology uses unique material combinations that provide unmatched solutions in heat mitigation, insulation, reduction of surface temperatures and more.These technologies are currently used for high heat applications in heavy-duty truck, motorcycle and UTV/ATV. 
Lincoln Industries offers extensive lab testing per ASTM standards and OEM specifications. Specialized engineers can provide customizable solutions for any heat management challenges.
| | |
| --- | --- |
| ThermoLinc® Technologies | |
| ThermoLinc® Genesis | Thermal insulating coating that can be used for applications up to 400°F, currently used in EGR applications for automotive. |
| ThermoLinc® Elite | Textile insulation for diesel and gas exhaust applications up to 1800°F. |
| ThermoLinc® Frontline | Thermal barrier textile pad. |
| ThermoLinc® Escape | High emissivity coating that can reach up to 1400°F. |
---
Related Technology